Sidebar
Telephone: 0086-0755-81482396
Mobile Phone: 15889393211
Fax: 0086-0755-81482396
Address: Floor.3,YuYangBuilding,2nd
Road of LangShan,Nanshan District
Country/Region: China (Mainland)
Chat With Us Now!

GPT06 portable GPS Tracker has a wide range of industrial and commercial applications, built-in high-capacity battery, bright LED flashlight, splashing waterproof
PRODUCT FEATURES:
1. Supports quad bands,i.e. 850/900/1800/1900MHz, universal in the world.
2.Double Module,GPS & LBS positioning.
3. GPS precise positioning with A-GPS and uploaded by GPRS regularly, Supports real-time tracking and history track playback.
4. Web browser platform, Smart phone app platform and SMS query.
5.Supports multiple alarm, Built-in acceleration sensor with vibration, collision and falling alarm.
6.GEO-Fence alarm .
7. Built-in high-capacity lithium battery, low battery alarm .
8.Built-highlight LED, can be used as a flashlight
9.Multiple protocol support, OTA upgrade program.
10.Waterproof and dustproof, vehicle/ individual /pet are applicable
ALARM TYPE:
1. Vibration Alarm
2. Collision / falling Alarm
3.Speed Alarm
4. Geo-fence Alarm
5. Low battery Alarm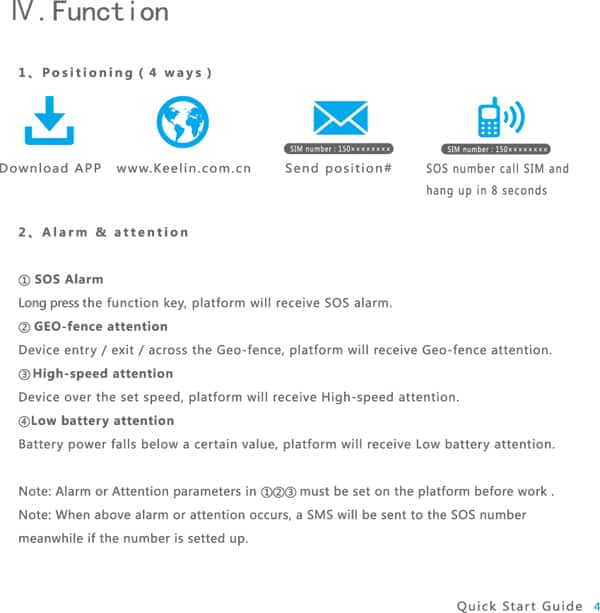 \
It can be used in:
1. Find elderly, children's location
2. Outdoor sports, rangers, patrol and other outdoor workers'security.
3. Pets, animal leader, camels and so on.
4. Suitable for individual & Vehicle.
Installation:
GPS positioning accuracy
5-15m (Depend GPS signal)
GSM positioning accuracy
100-1000 m
(Depending on density of base stations)
GPS Frequency
1575MHz
GSM Frequency
850/900/1800/1900MHz
Hot/warm/cold start time
<3s,<15s,<60s

Battery capacity

1800mAh

Dimensions (mm)

79.3(L)X51.9(W)X17.6(H)

Operating temperature

-20°C~70°C

Operating humidity

20%~80%RH

Weight

70g