Sidebar
Telephone: 0086-0755-81482396
Mobile Phone: 15889393211
Fax: 0086-0755-81482396
Address: Floor.3,YuYangBuilding,2nd
Road of LangShan,Nanshan District
Country/Region: China (Mainland)
Chat With Us Now!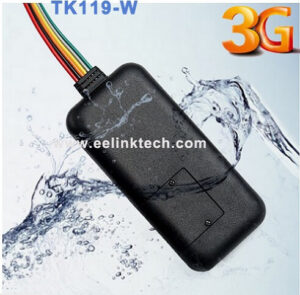 Eelink specialize in the R&D manufacture and sales of 3G GPS Vehicle Tracker , 3G GPS Motorcle Tracker, 3G GPS personal Tracker, 3G Car security products for Australia market.
Due to the global process of . By the end of 2016 mobile operators from Australia, the USA and Canada are going to turn off their 2nd generation base stations. More countries will follow their example in 2017 and 2018.
Utilizing cutting-edge GPS technology, the TK119-W features not only traditional tracking functions as cutoff petrol/electricity, geo-fence, ACC status checking, Speed & shift alarm, but optional digital outputs for Extend I/O port to add extension function, Waterproof level IP67 etc.
Applications:
•Fleet management
•Trailer management
•Workforce management
•Delivery truck dispatch
•Vehicle recovery
•Caravan security
•Heavy machinery tracking
•Logistics for temperature-controlled supply chain
•PAYD (Pay As You Drive) insurance
Product
Features
1. GSM/GPRS/EDGE, WCDMA(UMTS/HSDPA)
WCDMA850/900/1900/2100MHz
GSM 850/900/1800/1900MHz
universal in the world
2. Operating Voltage range: 6-36 V DC
3.Dual model, GPS & LBS positioning.
4.GPS precise positioning with A-GPS and uploaded by GPRS regularly, Supports real-time tracking and history track playback.
5.Supports ACC status checking and vehicle status notifying.
6.Built-in battery, Power disconnect alarm
& Low battery alarm.
7.Built-in G-sensor ,Vibration, collision and falling alarm.
8.GEO-fence alarm, speed & shift alarm.
9.Use relay to remotely cut off petrol/power, Cut off petrol or power by SMS command..
10. Extend I/O port to add extension function
11. Multiple protocol support, can be integrated to platform of customers
12. Firmware/configuration upgrade program Over the air(OTA).
13. Water proof level IP67
Tracking System WEB/APP:
Product Features
◆Real-time tracking
◆Auto-tracking
◆Blind area tracking
◆GPS+GSM tracking
◆History-trace checking
◆Geo-fence
◆Movement alert
◆Overspeed alert
◆Low battery alert
◆Shaking sensor alert
◆ACC
◆Cutting off/on oil

Alarm Type
Speed Alarm
Geo-fence Alarm
Shift Alarm
Vibration / Collision / falling Alarm
Low battery/ External power cut alarm
Function
interface: power supplies, relay, ACC
Extension interface: GPIO extension interface, used to increase the extensions (custom)
1.WCDMA+GSM
Applied to more countries and areas with updated mobile network, TK119-W using WCDMA+GSM helps to acquire location information in a more accurate and rapid way. Automatic transmission from 3G to 2Gnetwork adapts to actual environment.
2.Tele-cut off (petrol / Power)
In case that your car is stolen, one solution is to send commands from web/mobile phone to stop the connection of petrol electricity. Track the location and get your car back.
3.Geo-fence
Geo-fence is a virtual border that you set up in seconds. When your vehicle enters/exits the restricted border, you would be instantly notified via text or message to tracking platform.
4.Overspeed alert
TK119-W allows you to set speed-limit alerts. If the tracker travels over a certain speed, it will send you a text alert. This is useful for tracking a teenage driver, so you can keep them accountable for their driving habits.
5.History Playback
History playback Real-time tracking on Platform & APP ,playback track in 90 days

6. ACC detection
Update the vehicle's status quickly and accurately.
7. Dustproof and Waterproof
It is IP67 waterproof and dustproof so that it can be protected well for a long time.
Main Specifications

GPS Chip

MTK high sensitivity GPS chip

Antenna

Built-in GPS ceramic antenna; GSM quad-ban antenna

GPS Positioning Accuracy

5m-15m( Depend GPS signal)

LBS Positioning Accuracy

About 200m (Depend Bases Density)

GPS Frequency

L1,1575.42MHz C/A code

Network

WCDMA /EDGE/GPRS

Frequency bands

WCDMA 850/900/1900/2100MHz

GSM 850/900/1800/1900MHz

GPRS

Class 12, TCP/IP

LED indicator

GPS- Blue; GSM- Red

Memory

Save 2,000 waypoints

Hot/warm/cold Start

<3s,<15s,<60s

Built-in Battery

90mAh/3.7Vindustrial lithium polymer battery

Standby

2hours

Work Current

<30 mA

Standby Current

<15 uA

Charger

5VDC/1A

IP Waterproof Level

IP67

Dimensions (mm)

87(L)X 41.6(W) X 12(H)

Operating Voltage

9-72V DC

Operating Temperature

-20℃~70℃

Operating Humidity

20%~80%RH

Net Weight

50 g
Products picture