Sidebar
Telephone: 0086-0755-81482396
Mobile Phone: 15889393211
Fax: 0086-0755-81482396
Address: Floor.3,YuYangBuilding,2nd
Road of LangShan,Nanshan District
Country/Region: China (Mainland)
Chat With Us Now!

 Along with Eelink Real-Time GPS Tracking System software and tracking abilities, Eelink offers ability to obtain and transmit vehicle diagnostic information from On-Board Diagnostics port (OBD-II). Device plugs into and is powered by vehicle's OBD-II port, allowing uninterrupted GPS tracking. Also equipped as standard, motion sensor alerts users if car is moving when engine is turned off. Users can track their vehicles in real-time as well as gather diagnostic information.
How to find your OBDII Connector
Start by looking around the underside of your dashboard, below your steering wheel but above your gas and brake pedals. The diagram below will show you the general area to search.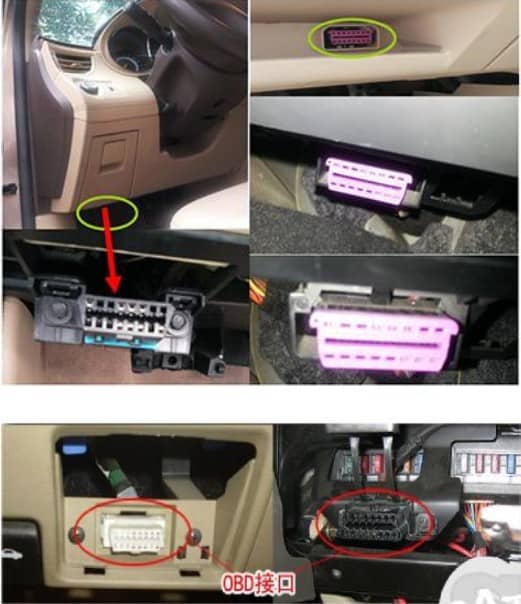 The connector may be covered by a small flap, but will usually be visible without requiring any disassembly. Once you believe you have located the OBDII connector, compare it to the picture below.
Installing the OBDII-GPS
Once the OBDII connector has been located, all that is required is to plug the OBDII-GPS into the connector. Once you turn the ignition of the vehicle on, the small lights on the unit will blink. During your first installation, you will need to give the OBDII-GPS unit a minimum of 15 minutes fully initialize.
Application
DRIVERS – Receive location, route and vehicle condition assistance automatically, anytime and anywhere.
TECHNICIANS – Remote vehicle diagnostics protects equipment and drivers.
OPERATIONS – Use real-time visibility to run operations more efficiently and safely.
DISPATCHERS – Plan and adjust routes more effectively and immediately.
SERVICE MANAGERS – Answer location inquiries faster and accurately.
RISK MANAGERS – Ensure regulatory compliance because unplanned incidents are reduced.
ACCOUNTANTS – Measure cost savings and increased customer satisfaction realized.
IT MANAGERS – Save valuable resources, with no demands on existing IT infrastructure or personnel.
EXECUTIVES – Increase value, through gains in productivity and utilization.
Cars Diagnostic System record function
1.Supports quad bands,
i.e. 850/900/1800/1900MHz,
universal in the world.
2.Easy to install, connect the OBD interface to work.
3.Supports single positioning and feedbacks position via GPRS at setting times.
4.Supports vehicle positioning and tracking.
5.Vehicle status and speed from OBD data is better than ACC.
6.Vehicle collision, falling alarm by SMS/Platform (optional).
Environment for use
1.Limited working temperature:-20°C~80°C
2.Storage temperature:-45°C~90°C
3.Humidity:<95%
4.Make sure the terminal is installed in OBD2 interface of the vehicle
Basic Specifications:
| | |
| --- | --- |
| Working Voltage: | 12VDC/24VDC |
| Standby Current | <3mA |
| Work current : | <120mA |
| GPS positioning accuracy | 15M |
| GSM positioning accuracy | 100M |
| GPS Frequency | 1575MHz |
| GSM Frequency : | 850/900/1800/1900MHz |
| Hot/warm/cold start time : | <3S,<1S,<60S |
| Dimensions (mm) L*W*H : | L*W*H:56.5 X 47 X 24.6 |
| Weight : | 45 g |
This device plugs into a vehicle's OBDII port for ease of installation. An additional Y-cable allows you to place the device up under the dash for an even more covert option